THAILAND
We went to a cooking class. Thailand is famous for its food. Here, everyone learned how to make five meals and we did not all do the same thing. The foods we made were: Green curry, Yellow curry, Red curry, spring rolls, Pad Thai, mango and sticky rice, banana in coconut milk, just to name a few. Before cooking all of this amazing food of deliciousness though, we visited the farm. We saw many spices and fruits. Of these include the cashew tree. FYI, it grows fruits and not nuts. The nut is attached to the fruit. Why not Google it and see what I mean. I also collected a coconut with the help of my father. Go teamwork! In the end I managed to eat two and a half plates of food. We still have the spring rolls though. They are here, ready to be eaten.
===============
NEPAL
Dal Baht. This is the food from Nepal. Everyone eats it. You can find it it any restaurant and you get free second rounds. It is also the cheapest there is. Basically it is rice with lentils, some potato and spice, with a Papadam. A usual routine for a local would be:
Wake up early for a cup of coffee. Relax until late and have the Dal Baht for breakfast. Start working in the fields or whatever the work is. In the evening, have bore Dal Baht and go to bed. The reason they eat Dal Baht is because the work they did often consisted of plowing fields or other energy intensive chores. They needed to keep up in terms of how much calories they burned compared to how many they ate. This is how this food was born.
============
MALAYSIA
Street food
Yesterday we ate some street food in Malaysia with some friends of my fathers. The food there was amazing. We had Prawns, Sting Ray, some kind of mussel-like creature, Rice, Veggies, and Pepper Crab. It may not seem special but the food was incredible and the sphere just enhanced the greatness of the experience. The food was slightly spicy, which we loved, though it did make my coconut disappear in a snap. Later we had mango rice with coconut sauce for desert. Again a great sphere and delicious food.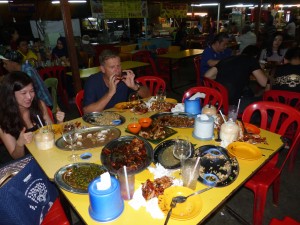 ===============
MALAYSIA
Durian
Though you might not know the name almost everyone has heard of it. It is known worldwide for smelling awful but tasting amazing. We got the chance to taste this fruit. My father had eaten some before and said it tasted good. He lied. In fact he did not like it either (or ever). He knew this. He could explain everything about its awful flavour. He said "You will have the flavour in your mouth again every time you burp and tomorrow morning you will burp and think 'what the heck is that flavour' and it will be this fruit". I will quote my dad again. This time it will describe my experience eating it. "Smells like garbage, tastes like garbage". Apparently only tourists fall for it because the locals were laughing at us when we ate it.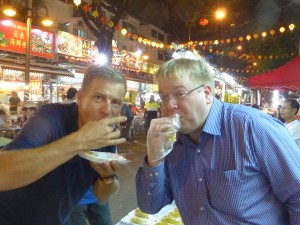 ============
Hello everyone. I have decided to changes the design of my page. Hope you like it. It is based purely on top tens so they will change. These however will not be in order. My recipe page does not exist yet. Anything saying it is on it is ready but not posted yet.