Just before we leave China – a quick picture of the local Beijing transport…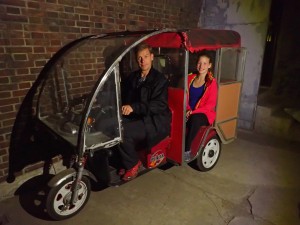 Quiet day: Did see a nice Durian as well as a very appropriate sign! (the one between the girls).
Visit of the Temple of heaven (with roof detail). At the post office a package towards Apo.  Followed by a visit to Hutong area in Beijing.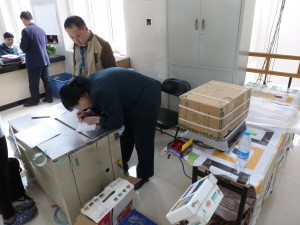 Summer palace and Tianenman Square – forbidden city and local foods made and eaten.
The Great Wall of China.  Yup, it's great!  The Olympic Stadium, and in the evening,…appropriately  Peking Duck)
To the train Xi'an to Beijing  – In the train.
Travelling in Xi'an.  Morning in the park (dance and sport with the locals), fountains, temple, biking on the city wall, dim-sum diner on Moslim street. Evening picture of the Drum Tower.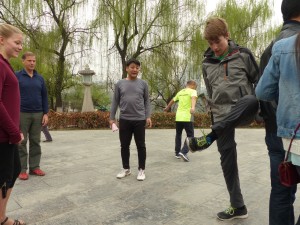 A visit to the Qin Warriors…
And a park with hot springs of the emperor, with many photo op's.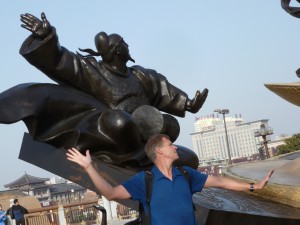 A morning in Yangshuo. A dentist along the main road – between the other shops, door open to the elements.  Kids school at lunch break.
Fisherman with Birds (who catch the fish for him)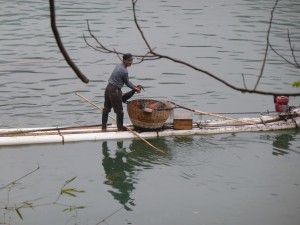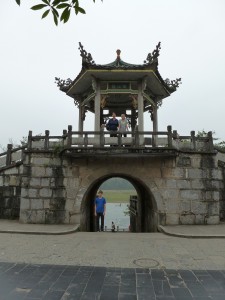 in town,…. (see the boat!)
Today was a bike-ride day. Nice snap-shot on daily life.

Amazing views of the terrain – on boats. The kids – friends as ever.
Quiet highway on the way to Yangshuo (karsten view on empty road).  Stop at the amazing km caves and old towns. Appreciating the local people and the local transport.
In the evening a nice show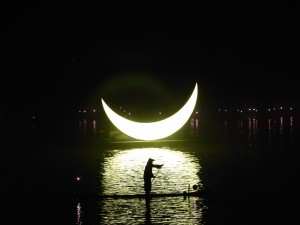 Visit to the Longji Rice terraces. Weather bit English, but magnificent views nonetheless. Great camera opportunities!
Easy day in Guilin – Heidi World High in session – nice view. Fishermen sitting on bamboo raft. Picture at Pagoda, in shopping street the dough gets a good beating…
Lunch is 'Hot, hot, hot' but fun to order (with hands and feet). All followed by a dubious snack on the road afterwards….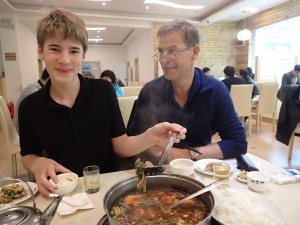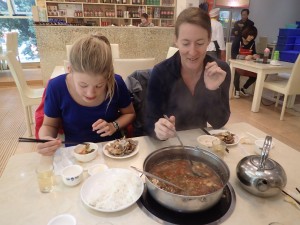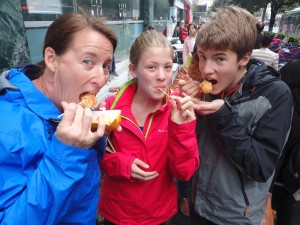 Arrival in Guilin – rain, something we haven't seen for over 4 months! On our way to the hotel, scooters with extra long build-in umbrellas (also covering the person in the back). Wide open roads, you've got to love central planning!
In the hotel and in front of the hotel (Chinese lanterns)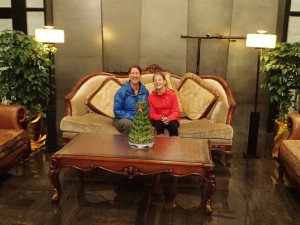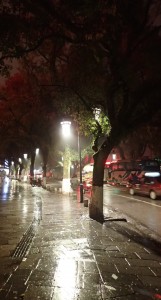 Food for thought,…. we skipped the 'boar genitals' and 'bamboo rat'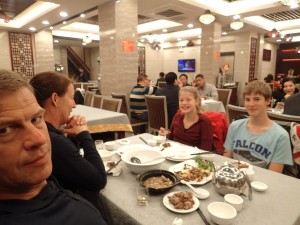 In Shanghai, prayers at the Longhua Temple. A gorgeous temple with many active people burning incense – we joined them for a few sticks..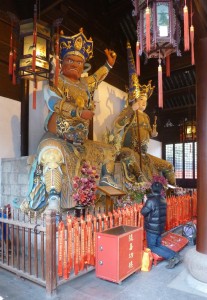 Shanghai, a lovely old town with great street food
And we truly enjoyed the river cruise…..
Arrived in Pudong airport and took the fast train to Shanghai  (a full 8 minutes worth…)  but is it the speed that matters.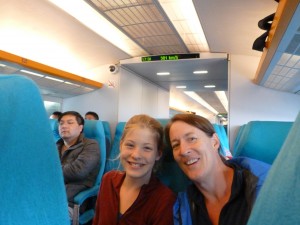 The following morning – cold but nice weather…. Exploring town. The People's park, Antique market, locals playing Mah Jong,….