San Cristobal is simply bursting with sea lions and just watching them is such a riot. They all seem so lazy while they are on land. They make great piles to sleep and they will sleep anywhere, even the gutter of the main street.  We watched one which lay on it's back in the sand, head pointing toward the water watching the waves. He just waited until the surf came in and carried him out. Kind of reminds you of a teenager! They are also big on body surfing and don't mind sharing the space with the surfers and people on boogie boards. More than once the swimmers got a little shock to see a sea lion flying by!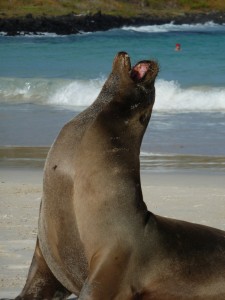 Craziest of all was the last beach we visited. Apparently, I put my towel on the ground either in a place the sea lions like to sleep, or directly on the path to the sleeping pile. At least a dozen passed by, some so close I had to pick my feet up to let them pass! By the end of the afternoon, they were getting pretty bold. Someone had left their beach bag on the sand and every sea lion had a sniff of that. Alicia was sitting on her boogie board and one curious little guy came up and sat with her. It was more than a little unnerving, since we know that they can bite pretty hard. He decided she wasn't worth nibbling, but we headed out pretty fast after that!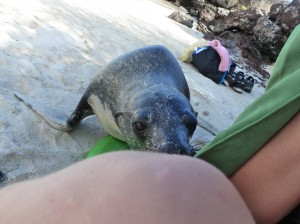 Yep, this is Alicia's leg!!