After school we did some homework at a local café and then rented bikes to ride out to the Wall of Tears. We walked a large part of this trail yesterday and decided it would be fun to go further (and faster with the bikes). By all accounts, the Wall of Tears is just that, a wall, but the trip itself was full of lovely little stops. It's one of the few trips you can do on Isabela without a guide.
Along the road, there are amazing little beaches and fantastic volcanic rock formations. One formation was a volcanic tunnel where you can see exactly the way the lava can form – and eventually collapse – into tunnels. We've seen these formations all over the island, now we understand how these massive rocks can be such a crazy pile up.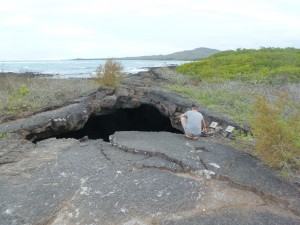 Just outside the town, we spotted a gorgeous sea lion, just hanging out on the beach. He looked beautiful in the late afternoon sunlight and even more graceful as he splashed into the ocean in search of a meal. I still can't get used to the abundance of animals just hanging around in such close proximity to the human population.
Another of the stops was at a mangrove. There is a fresh water source that was used by the penal colony that constructed the Wall of Tears. There was also a beautiful little beach to access the water. In this mangrove forest are some of the biggest mangroves I've ever seen and the biggest black mangrove on the island. It was just like walking into one of the fairy houses Alicia used to construct in the forest.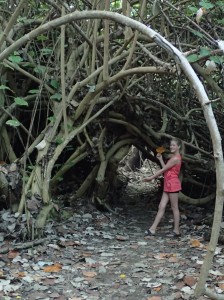 Just down the road from this was the Camino de las Tortugas (the walk of the tortoises). Conveniently marked with a sign and a tortoise just next to the sign. We spotted at least another dozen in the next 4km as we rode up the hill; it was a real tortoise safari. About ¾ of the way along the path, Alexander's bike chain broke. Fortunately, this path is frequented with guides and tourists, so it wasn't long before he was rescued by a group of Argentinian travelers.
We still managed to enjoy the lookout, which offered an amazing view of the island. On the way back, the kids and I stopped at the mangroves for a little swim and got back to town just in time to see the most incredible full moon hovering over Isabela. A fitting way to end the day – and our two weeks on the island.