Before we left Vienna, I asked Milla (my friend who came from Thailand) what I should do in Thailand. She answered that I NEEDED to ride on an elephant. So I asked mom and dad if we could ride an elephant, and that is ONE of the thing we did. The only thing is I never learned the name of our elephant. So we made some up.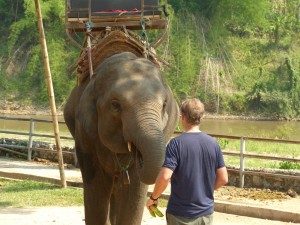 Mom and I rode on Elly Phant, and dad and Leendert rode on El ly Phant (there brother and sister). To start off, we went 10 meters to the right of the end of the place where they kept the elephants and turned into a little path only large enough to fit the elephant's large feet, it was going uphill. Normally you would say "sit back and enjoy the ride" but in this case, if you would sit back you would be scared to fall backwards!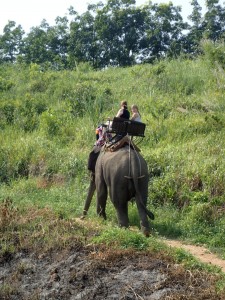 Elly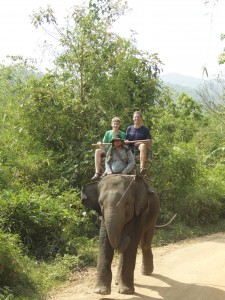 El
Of course, what goes up must come down, so guess what we did. CORRECT (I hope), we went down the hill. At the bottom of that hill, there was a banana plantation. At one point, mom, dad, Leendert and me were scared that our elephants were going to walk over the grass to the banana trees.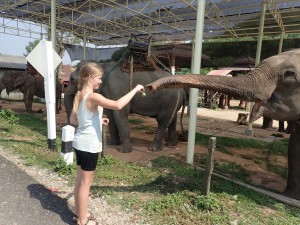 When we got back to the street, we went down a tiny path that lead to the water. You got it, the elephants wanted to cool down so water went into the trunk and 'Elly' and 'El' spat all over their body's which caused us to get wet. Getting wet actually felt nice after biking for 2-3 hours in 42C°.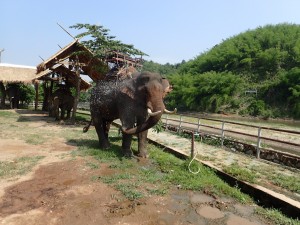 We finished by going on the road again. Going from the river to the place where we had started, there was an exhibit type of thing (a cage) with a snake that was about 2-3-4 times my hight and thicker than my/your hand! The reason why the length is so, not very precise is because he/she was all twisted and turned.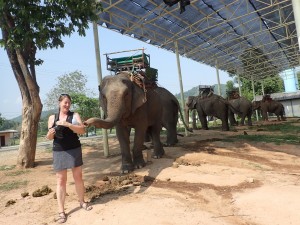 THANKS MILLA!!!