Mom and I went weaving yesterday while Leendert and dad went knife making.
When we arrived, we saw two looms outside, one beside each other, mom and I were really happy because then we would not be lonely.
First we had to pick out our colors.
There was:
• Turquoise
• Orange
• Purple
• Magenta/ Pink
• Yellow
• White
• Very light blue
• Light blue
And a few other colors. After we chose our colors (me: turquoise and magenta, mom: turquoise and white), we went to the wheel of a bike, or at least that is what it looked like, and spun the string from the big roll to little bobbinss.
It REALY burns your fingers.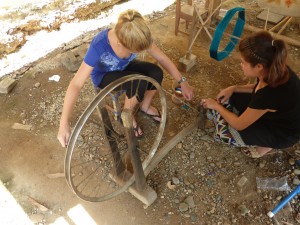 When all the little bobbinss were filled they told us one had to sit INSIDE and one OUTSIDE. I stayed outside and mom went in. Mom and I both felt lonely because there was nobody to talk to.
Towards the end, in total we got a couple of 5-10 minute 'breaks' and visited each other. We ended up weaving almost 1 meter of our 1.7 meter scarves.  The ladies will finish them for us and deliver them tomorrow. We asked them also to make me pillows that match my scarf to decorate my bed in Dubai.  What great souvenirs!  It was a fun afternoon.